A cobalt-blue bottle of Evening In Paris perfume always sat upon my grandmother's (Nonnie's) vanity table. A bottle now sits on mine.
    Nonnie always had a midnight-blue bottle of Evening In Paris perfume on a lovely, mirrored vanity table in her bedroom.
    As a child I was enchanted by the elegance and mystery of my grandmother's vanity table. The feminine mystique of her womanly preparations for an evening out seemed so impenetrable to me.
    An ornate silver, music box, a box of scented powder with puff, the silver-backed brush used nightly to groom her hair, the string of pearls that her husband (my beloved Pappy) gave her...always worn on her most elegant and prestigious of occasions. The red, red lipstick...
    ...and a small pot of rouge. Women's mysteries of allure and attraction to be admired, observed, and someday emulated.
    Ahhhh...Evening In Paris perfume. My cousin, Cheryl, and I were allowed to sniff the atomizer, but never spritz any on ourselves.

One of the versions of the bottle of Evening In Paris that Nonnie kept on her vanity table.
     An expensive indulgence, the perfume was too grownup - too womanly - for our prepubescent selves. It was a rite of passage that we would some day earn for ourselves. 
    Nonnie's bedroom always contained the faintest aroma of Evening In Paris. And she exulted in it on sultry, starlit nights when she went out to attend important, grown-up functions.

I remember this so-elegant-to-me bottle sitting on Nonnie's vanity table near her beloved strand of pearls given to her by Pappy and inherited by me. I recently had the pearls re-strung so I could wear them without fear of breakage of the fragile thread binding them together.
    Recently I found a source for Evening In Paris perfume. In a mailing of the Vermont Country Store catalog www.vermontcountrystore.com  I found a cobalt-blue bottle of Evening In Paris...

Now, upon my own vanity table sits a bottle of Evening In Paris perfume next to the strand of pearls inherited from Nonnie. 
    For the purposes of nostalgia I ordered a bottle for myself. What happened on opening the package and inhaling for the first time in over half a century its fragrance was a stunning, sensory trip back in time.
    Suddenly, for the briefest of moments I was hurled back in time to Nonnie's house on Mentor Avenue in Pasadena, California...to her vanity table.
    The impression was intense and surreal. In my mind's eye, and heart's experience, past and present collided visually and aromatically. For a moment I was really there, transported upon the ephemeral scent-sation of Evening In Paris's sylvan, perfumed wings. 
* * * * * *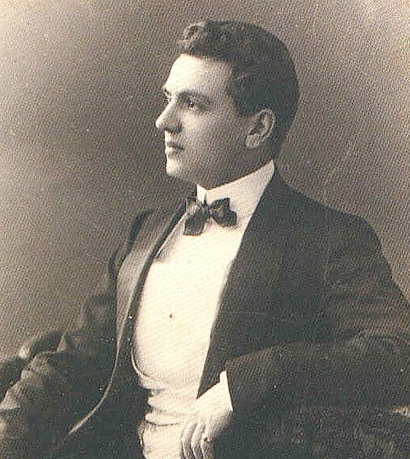 Ernest Beaux - of Bourjois - developed Evening In Paris in 1928.
    Evening In Paris (Soir de Paris) was discontinued in 1969. In 1992 it was relaunched by Francois Demachy and Jacques Polge. It is described in its recent reincarnation as "a precious blend of tradition and modernity. The top note is the...bergamont with a refined and sweet middle note: a floral blend (Jasmin, Ylang-Ylang from the Comores islands, Turkish Rose and Violet-Iris notes) with a hint of Peach and a woody note of Cedar gives way to a sensual and powdery base of vanilla notes."